Donald Miller on the StoryBoard framework
Helping people solve their problems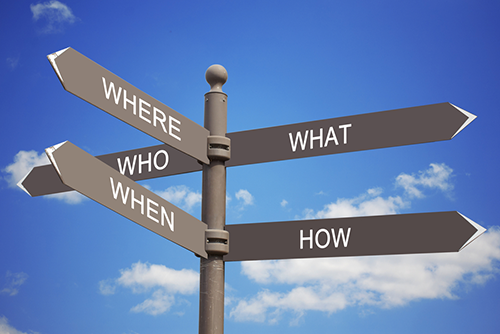 A colleague of mine recently directed me to a podcast by the best-selling Christian author and now marketing guru Donald Miller. In the podcast (if you want to dive into the podcast, sessions 2 and 3 are a good place to start) Miller talks about how effective stories work, that usually there is an external problem and an internal problem. For example, Liam Neeson's daughter is kidnapped (external problem) leading to the question of whether he will have the courage and perseverance to get her back (internal problem). Miller goes on to say that for organizations to be effective, we have to understand the problems of our constituents. He further says our organization's goal is not to be the hero (we have already solved your problem) but instead a guide, coach or mentor so the person can make progress on their own problem.

As I was listening to this podcast, I was intrigued by the thought that we all have problems and that we want our experience of faith and religion to guide us toward a better place. What are these problems, and how do we as the church go about coaching and mentoring people? Might our value as the church be a function of how well we do these things? How might stewardship and discipleship practices help people with problems around money and consumerism?


---
Learning to say 'thank you'
'Embracing Stewardship' from Chick Lane and Grace Duddy Pomroy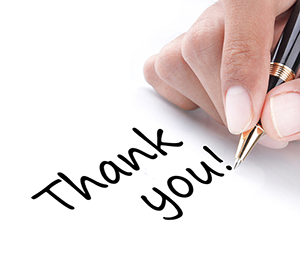 If our model for understanding people is that they are totally driven by a sense of selfless duty, then thanking them for anything they do might be a disservice because obviously they are not interested in being recognized, praised or benefitting in any way. Pastor Chick Lane says, however, that his experience with people is that they do like to be appreciated and thanked for the gifts they offer.

In their new book "Embracing Stewardship," both Lane and co-author Grace Duddy Pomroy write about many important topics on congregational stewardship, including a chapter dedicated to the practical aspects of congregations thanking people. Watch this video to hear some of those ideas, and download this sample congregational "thank-you plan" for some intentional approaches. Also check out this ELCA resource on thanking donors. What would it mean for your congregation to be more expressive in saying thank you?

---
Mission Interpretation as a ministry of thanking
Helping people know and feel they make a difference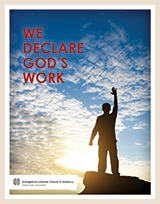 The words "thank you" really do have something truly magic about them. While it's just a couple words, when expressed sincerely with a heart of gratitude, those two simple words can change a life. Saying "thank you" is a sign of respect to the person who has helped you (or given you something). It means you don't take them for granted, and it's an acknowledgment that they matter. That is why saying "thank you" matters.

One major component of the Mission Interpretation Ministry of our ELCA is to thank members of congregations for their generosity in making God's mission in the world possible. By thanking members on a regular basis for their participation in God's work, by making sure they know they make a difference, that what they do matters, members feel appreciated and connected to the ministry we do together as the church. Consider asking a mission interpreter to your congregation to offer a word of thanks. Your members deserve it; they do so much!

For more information on the ELCA Mission Interpreter Ministry, please contact Denise Ballou.

---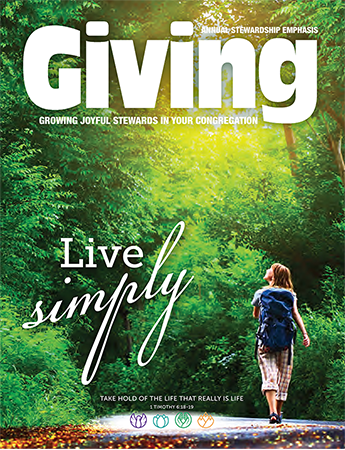 New issue of Giving magazine
Take hold of the life that really is life

Do you think it would be beneficial for people to learn as the apostle Paul did to be content with whatever they have? In this edition of Giving, Christian stewardship thought leaders from throughout North America offer spiritual insights and practical ideas for finding contentment through simpler living. The center section offers guidelines for creating a financial stewardship emphasis, including resources for four worship services and a special meal event. You can download the issue for free using this link.
---
Imagine a new economy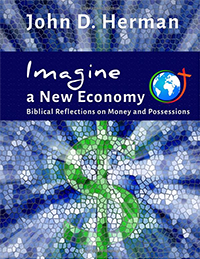 Biblical reflections on money and possessions

A personal and small group guide, "Imagine a New Economy" is an in-depth study of biblical views about money, wealth and possessions. Why this topic? Because after the kingdom of God, this is the second-most frequent subject of Jesus' teachings in the Gospels. Why is Jesus so concerned? He knows that "the first question regarding discipleship is what one does with one's money." According to Jesus, how we think of money and use it is a spiritual issue. Or we might put it this way: The primary hindrance to living as the new community in the new world Jesus envisions is our relationship to our money and possessions. Click here for more information about the book and series.

---
Presentations and conversations on stewardship
Check out stewardCast and stewardTalk

In late February, the ELCA streamed an event called stewardCast. Presiding Bishop Elizabeth Eaton talked about mission and giving, and Stephen Bouman, the director of the Domestic Mission unit of the ELCA, discussed when faith and finances collide. To see these and other presentations from the event, click here.

A few weeks ago, author and former ELCA stewardship staffer Bob Sitze was interviewed on an audio stewardTalk about his new book, "Stewardshift." You can hear that session using this link. Another stewardTalk will be on Tuesday, Aug. 23, at 3 p.m. CDT with Bishop Craig Satterlee talking about his new resources on preaching stewardship. Click here for more information.


---
Sayings, quotes, thoughts
Gus Spieth

"I used to think that top environmental problems were biodiversity loss, ecosystem collapse and climate change. I thought that 30 years of good science could address these problems. I was wrong. The top environmental problems are selfishness, greed and apathy, and to deal with these we need a cultural and spiritual transformation. And we scientists don't know how to do that."


---
Biblical foundations
Jeremiah 17:7-8

"Blessed are those who trust in the Lord,
whose trust is the Lord.
They shall be like a tree planted by water,
sending out its roots by the stream.
It shall not fear when heat comes,
and its leaves shall stay green;
in the year of drought it is not anxious,
and it does not cease to bear fruit."